Construction of the Tallest Asphalt Core Dam in the U.S.
The Chimney Hollow main dam on the north end of the reservoir will be a rockfill structure with a hydraulic asphaltic concrete (HAC) core approximately 350-feet tall. The main dam will contain approximately 12 million cubic yards of rockfill and 75,000 cubic yards of HAC. Rockfill and aggregates will be sourced from within the reservoir footprint and the HAC will be batched on-site.
Plinth
The function of the plinth within the Chimney Hollow main dam is multi-faceted. The plinth acts as a key for the main dam, utilizing hundreds of ground anchors advanced a minimum of 15-feet into the underlying bedrock to hold the plinth tight against the rock foundation. The plinth acts as a stable surface to conduct foundation grouting. Another feature of the plinth is that it creates a smooth and consistent surface for the initial lifts of the asphalt core to be placed, simplifying construction. The plinth is considered a key piece of the main dam, essentially tying the above-ground features of the dam to the below-grade features, as well as the underlying bedrock.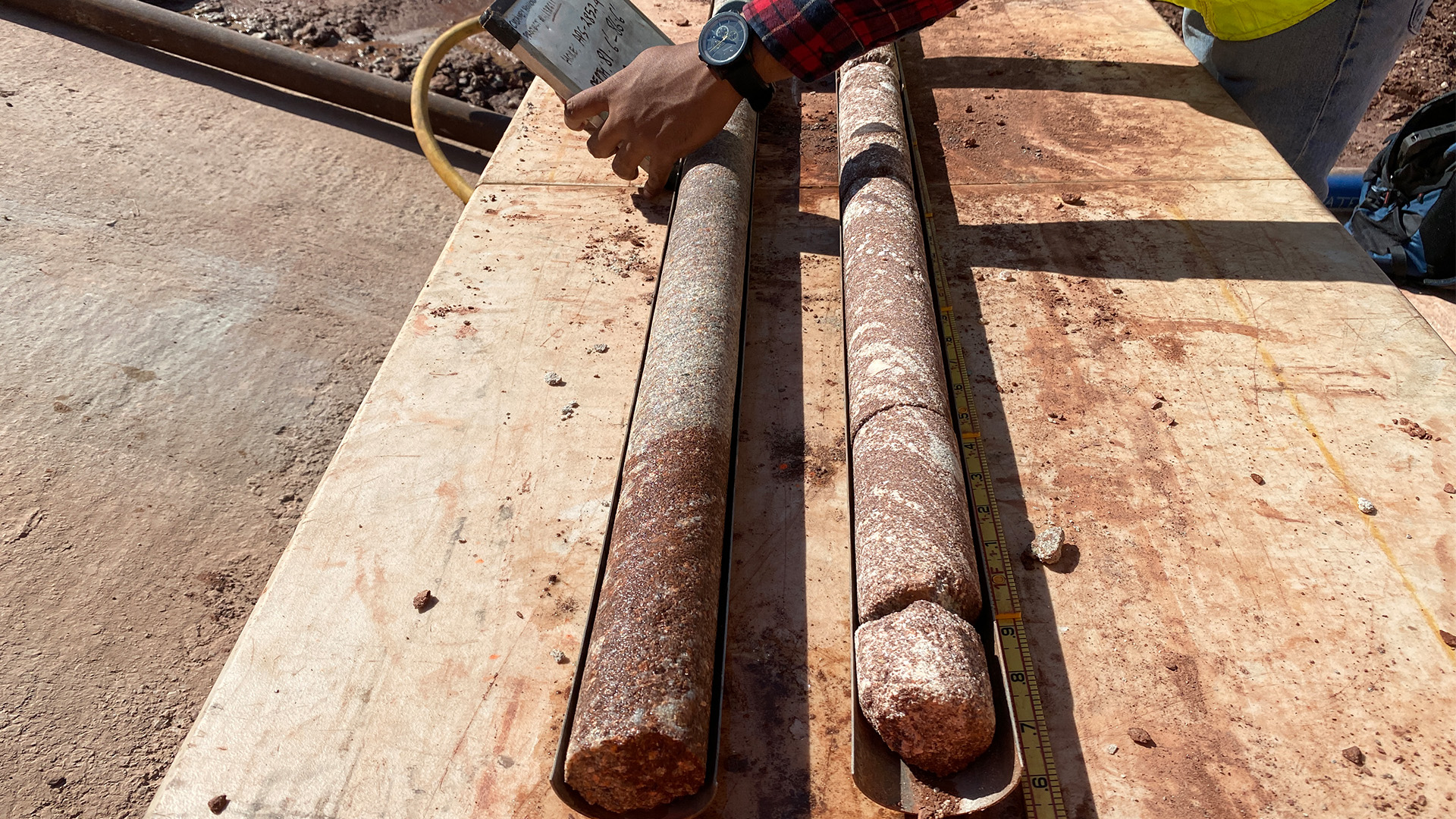 Foundation Grouting
A two-row grout curtain and blanket grouting is required for foundation preparation. The grouting consists of drilling holes as deep as 230-feet below the foundation of the dam and pumping Portland cement grout into the holes to seal any voids, such as cracks and fissures, in the bedrock to reduce seepage. Blanket grouting helps to reduce seepage through the shallow bedrock and also helps to prevent consolidation of the foundation under the weight of the main dam.
It will include nearly 2,000 holes (28 miles of drilling) filled with 8,400 cubic yards of grouting material made of 7,000 tons of Portland cement.
Asphalt Core Rockfill Embankment
An asphalt core dam was selected for Chimney Hollow because the valley does not provide enough fine-grained clay material in the reservoir footprint to construct a clay core dam, like those in Carter Lake and Horsetooth Reservoir. Asphalt core dams use a special hydraulic asphalt mix, unlike brittle paving asphalt, to create a flexible, very low permeability core. This technology is proven effective, with more than 200 asphalt core dams constructed worldwide having decades of safe operations.
The main dam at Chimney Hollow Reservoir will be the second asphalt core dam in the United States and by far the tallest. The asphalt core dam design recommendation was provided by Stantec. It was reviewed and approved by the Colorado State Engineer's Office Division of Dam Safety and an independent Project Review Board.
The first section of the asphalt core was placed on Oct. 15, 2022.