Temporary On-Site Construction Facilities
Maximizing On-Site Resources and Minimizing Local Disturbances
Asphalt Batch Plant
Barnard Construction hired WALO, a Switzerland-based company that has constructed asphalt-core dams worldwide, that has set up its asphalt batch plant on-site. The plant will utilize the aggregate produced from the quarry and crushing facilities and process it into the hydraulic asphalt concrete needed to build the main dam's core. While there are about 200 asphalt-core dams worldwide, the main dam at Chimney Hollow Reservoir will be only the second one built in the United States and will be by far the tallest asphalt core dam in the United States once it's constructed.
Cofferdam
As the primary component of Chimney Hollow Reservoir, the main dam requires protection from water entering the dam site during construction. A temporary clay-core, earth embankment, 50-foot-tall, 1,000-foot-long cofferdam was constructed upstream of the main dam to block runoff and stormwater from entering the dam site during construction. It was sized to hold a 25-year, 24-hour storm event.
In any other project, a dam this size would be a main component. To put it in perspective, the saddle dam at the south end of the reservoir is 10 feet shorter than the cofferdam.
The cofferdam will be breached before the reservoir is filled with water so as to not produce additional dead space. Construction began in September 2021 and lasted about five months.
Concrete Batch Plant
Barnard Construction has established its own on-site concrete batch plant to eliminate the need for concrete deliveries by truck and to greatly reduce construction site traffic. On-site concrete production also provides the contractor with better quality control and flexibility over the production of more than 35,000 cubic yards of concrete during construction. The batch plant will reduce truck traffic to the site by more than 3,500 concrete deliveries.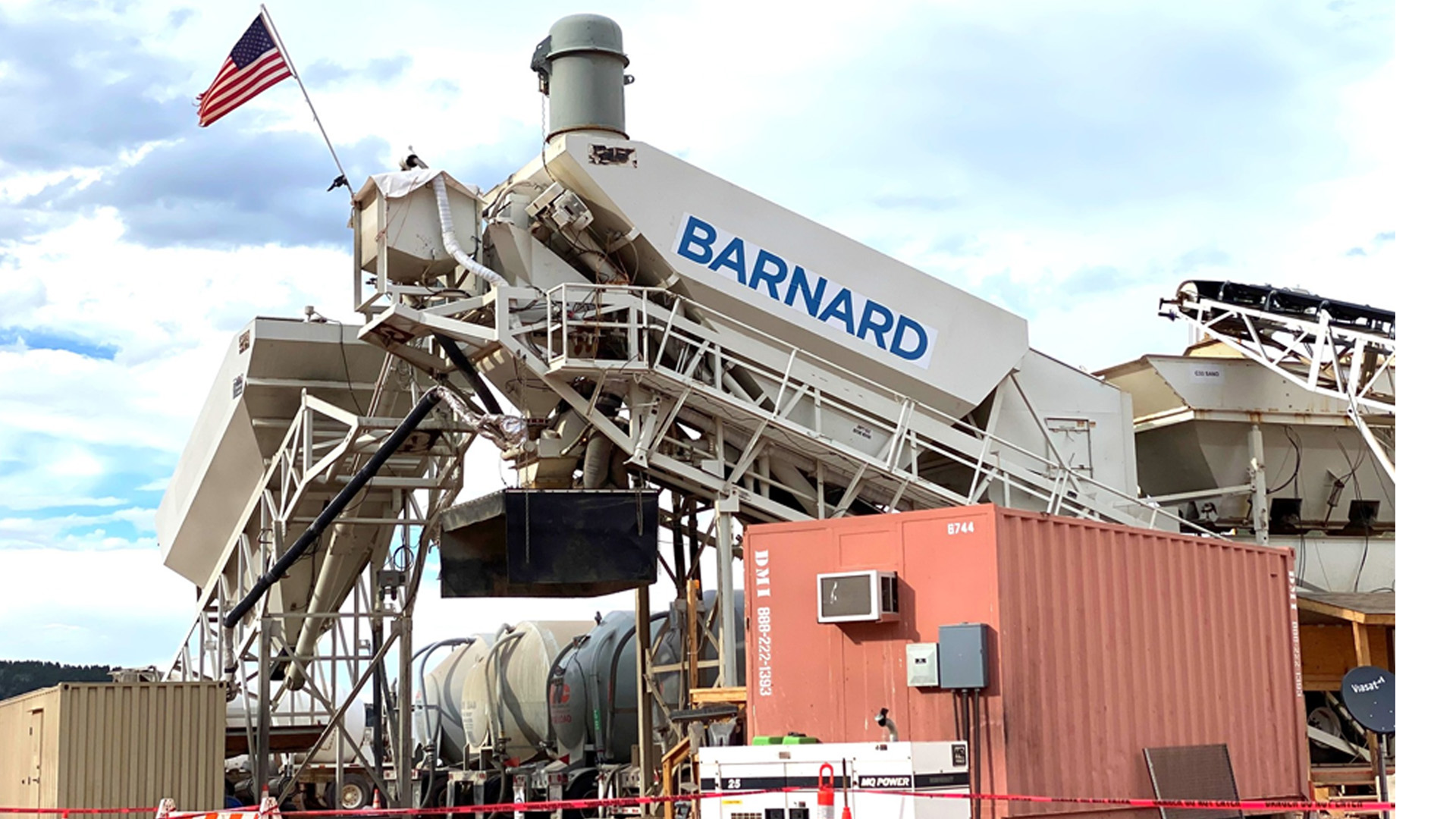 Labs
An on-site materials testing laboratory at Chimney Hollow provides real-time testing results for work. The materials testing lab is outfitted with all of the testing equipment necessary to test geotechnical, concrete and asphalt materials used during construction.
Rock Quarry and Aggregate Processing Plant
Rock quarrying and material processing are among the most essential aspects of the Chimney Hollow dam construction.
An on-site quarry is south of the main dam along the western edge of the reservoir footprint (all completely below high-water line). Aggregate processing includes vital equipment such as a jaw crusher, a cone crusher, a vertical shaft impact crusher and a wash plant. The crusher setup cost about $10 million when purchased brand new. Crews are producing project-specified crushed rock and aggregate materials needed for construction of many key pieces of the main dam, including different zones of the rockfill embankment, the aggregates for the asphalt core, and hydraulic filters and aggregates for structural concrete.
As construction continues, the quarry's equipment and crews will produce 2-foot and smaller material that will either be sent to the rock crushers to make aggregates or hauled to the rockfill portions of the main and saddle dams that will surround and support the low permeability cores (asphalt and/or clay).
At peak production, rock quarry will supply about 63,000 tons of material per day, making it one of the largest mining operations in Colorado. It is equivalent to 4,500 highway-rated dump trucks per day. Having an on-site quarry minimizes construction traffic and disturbances to the local community.
To stay on schedule for main dam construction, crews will dump a 100 ton load every two minutes, 20 hours a day, six days a week for two-and-a-half years.