Safety On-Site is the Highest Priority
The four elements to quality control, cost reduction and job efficiency are: safety, occupational health, environmental protection and ethical practices.
A full-time, on-site safety team is dedicated to providing proper training for all individuals, as well as adhering to safety protocols. At all times, all personnel have the right to feel safe and the right to shut down work if they feel unsafe. In essence, there are approximately 350 "safety officers" on-site daily because everyone is trained and responsible for safety.
Barnard Construction hosts regular events for personnel to be reminded of the importance of on-site safety, including safety meetings for staff, safety demonstrations, training and more. Regularly taking time to focus on safety is a valuable investment. In the event of a medical emergency, we have personnel on-site with medical backgrounds, including a retired navy medic and trained paramedics. These individuals are able to assist while emergency services are called.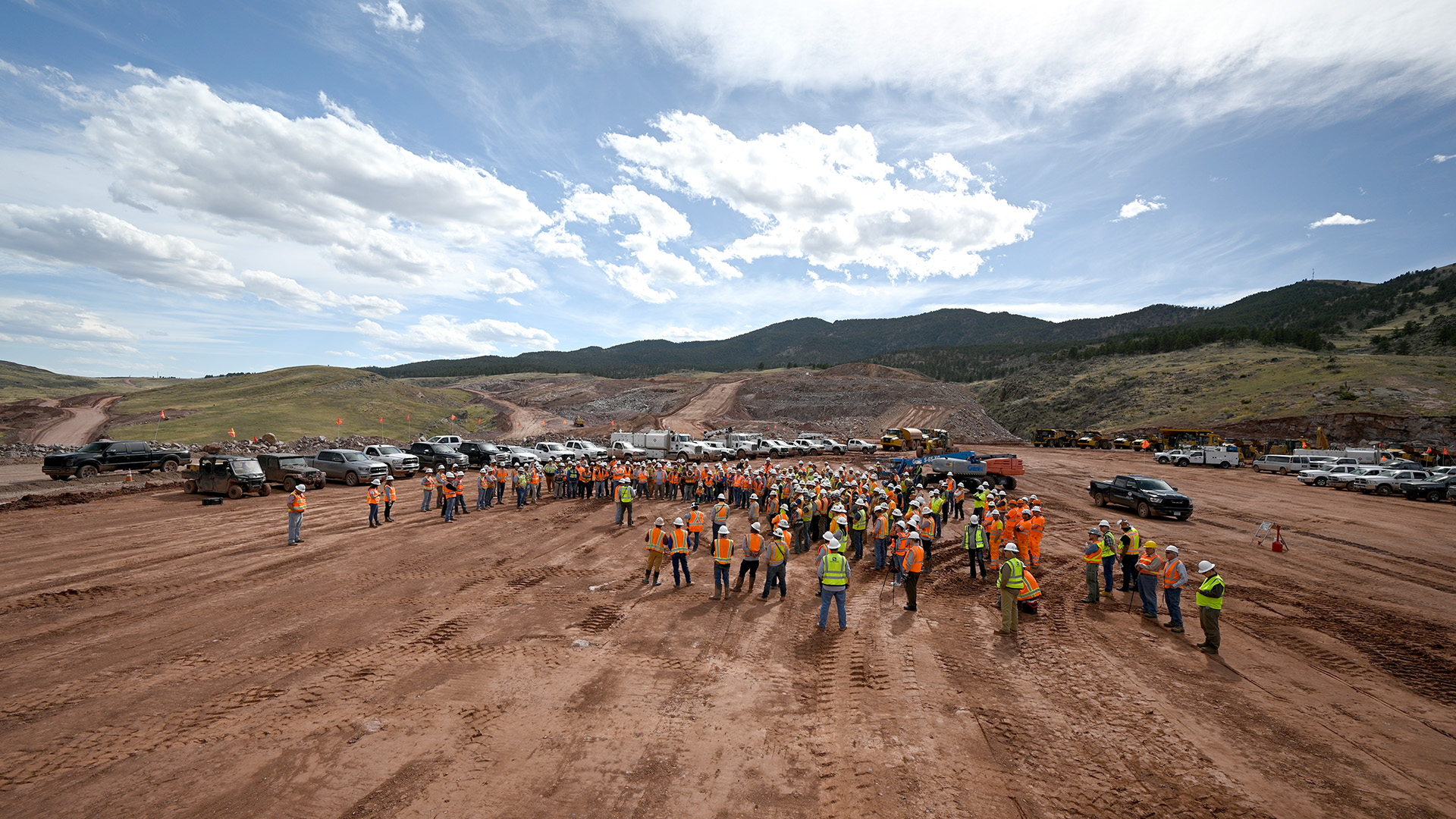 Safety Obligations and Expectations
All personnel must receive a three-hour Chimney Hollow Reservoir site safety orientation prior to going on-site.
Personal protective gear is worn at all times: hard hat, safety glasses, safety vest, safety boots and long pants.
Construction equipment and vehicles always have the right of way.
Safety Meeting Frequency
Every day, crews attend a safety meeting before any work begins. A bilingual safety meeting is also available.
Each week, we host an all-supervisor meeting to discuss high-level safety on site.
Each month we host an all-site bilingual safety meeting.
Construction Safety Week, May 2-6, 2022
Barnard hosted several events for employees to be reminded of the importance of safety on site, including safety meetings for staff, safety demonstrations, training and more. As an example of the week's events, heavy equipment operators took part in behind-the-wheel training with instructors from Caterpillar Safety Services.
"These safety demonstrations help us develop the type of safety culture on-site that employees may not have been a part of in the past," said Garris Buckaloo, Barnard Project Safety Manager.
On Friday, May 6, Barnard conducted a mock manlife rescue followed by a mock incident where a CAT 777 haul truck – the largest on site at Chimney Hollow – ran over a full-size pickup truck to demonstrate how quickly a truck can be flattened.
"The demonstrations show employees that safety and planning need to be in every scope of work," Buckaloo said. "Taking time away from production to focus on safety is a valuable investment. Plus, we can have some fun with these exercises. In the end, if this leaves a lasting impression they will carry forward, that's worth the effort."